I'm leaving for Bonnaroo Music Festival in Tennessee, in a day or two. I've gone with my younger brother Robert the past five years in a row. It's become a family tradition and the most exciting time of year for me.
It's more than a music festival, it's a spiritual journey for me too~~~~~ Every year I throw caution to the wind, hop in a vehicle and head to the middle of nowhere Tennessee. The adventure gets better and better every year and I never know how I'm going to top the last. At this rate, I'll be performing on stage soon… and I'm not even in a bad, lol.
Radiohead and Red Hot Chill Peppers are performing, I've been listening to them for ten years, and haven't seen them perform once. I'm hoping Thom Yorke of Radiohead plays songs from Atoms for Peace with Flea from Red Hot. Bon Iver, The Avett Brothers, Tune Yards, Santogold, Alabama Shakes, Ben Howard, Feist, soooooooo many amazing bands are playing and comedy too!
Last year I had an all-access backstage pass because my friend performed in the comedy tent. I ended up getting chosen to model the "Bonnaroo Buzz" Ben and Jerry's sponsored dress in an Eco-Fashion show. I also met the founder of Roo. Along with Neil Young. Epic, to say the least.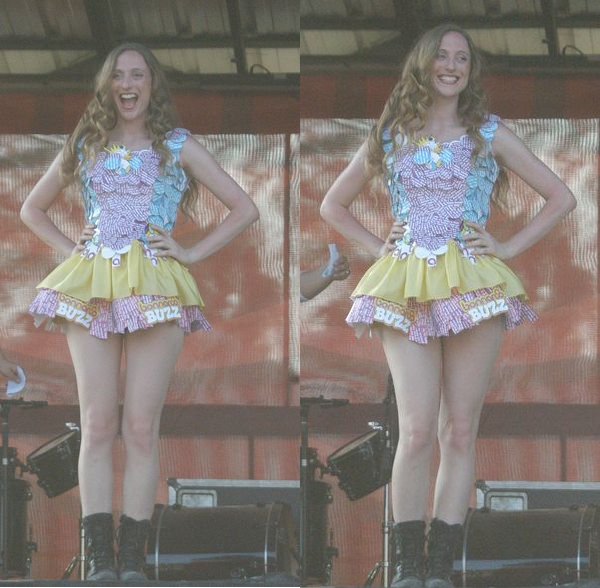 This year I will be in the regular General admission, but plan on doing some fun interviews with some special people (possibly the founder of Roo!) and a video all about Bonnaroo fashion. Stay tuned and see you on the farm~~~~~~
"Do yourself a favor and pack your bags. Buy a ticket and get on the train." Radiohead:Black Swan:Atoms for Peace
Love, Yvonne